https://pbs.twimg.com/media/ElQGLzsXYAAM9pR.jpg
Christian Chivu won nine major honours during his time as an Inter Milan player. He became an Inter Milan player on the back of his transfer from fellow Italian team AS Roma in 2007. He was part of the playing squad at Inter Milan for a period of seven years. Christian Chivu retired from football at Inter Milan in 2014.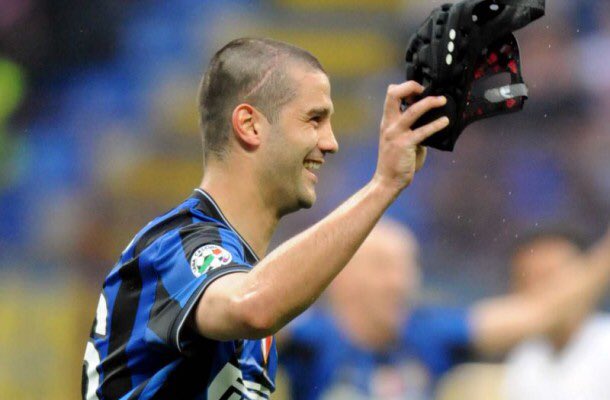 Inter Milan gave Christian Chivu the opportunity to win a lot of trophies having won just the Coppa Italia title during his time at AS Roma, between 2003 and 2007. At Inter Milan, Chivu won three Italian Serie A titles, the 2009/10 Champions League title, the 2010 FIFA Club World Cup title, two Coppa Italia titles and two Supercoppa Italia titles.
AS Roma sanctioned the sale of Christian Chivu to Inter Milan for €16m on July 27, 2007. €3m out of his transfer fee was paid with the co-ownership of Marco Andreolli who moved to the capital club from Inter Milan. Chivu signed a five-year deal at Inter Milan. He was able to win the Italian Serie A title that eluded him at AS Roma during his first season at the San Siro. It was the first of his three league titles at Inter Milan.
Inter Milan benefited from his attribute as a versatile defender as he could play as a left-back or as a central defender. He became a regular fixture at left-back during the 2009/10 season with manager Jose Mourinho preferring the centre back partnership of Brazilian player Lucio and Argentine star Walter Samuel. Christian Chivu was in the Inter Milan starting XI for the 2010 Champions final clash with German Bundesliga outfit Bayern Munich.
Chivu started the 2010 Champions League final encounter with the Bavarian giants on the left side of defence. Inter Milan beat Bayern Munich 2-0 to win the competition for only the second time thanks to the brace from Argentine striker Diego Milito.